Let's talk about Tree Removal!  Unfortunately it's not always possible to prune a tree and removal is the only option for reasons due to structural weakness or wrong location. If you have a tree to be removed on the Gold Coast, Brisbane Southside or the Scenic Rim, you've found the experts, JC Tree Services!
Tree Removal Large Or Small
With our extensive experience in tree removal we can quickly and efficiently remove any size trees which may pose of being a danger. With the correct staff and equipment our professional Gold Coast tree services ensure you do not have to lift a finger.
Our qualified Gold Coast arborists use many different techniques to dismantle the tree by lowering it piece by piece so as not to damage your property. Where access allows we use elevated work platforms to eliminate risk to the property, staff and general public. We have all the right equipment such as wood chippers, skid steers and cranes to make the job easier and quicker and to leave your property in a clean and tidy manner.
So whether it be removing a large fig tree or a poinciana to clearing the block to make way for your new home, we cover it all.
After removing the tree we can help you choose and replace a new tree to fill that empty space in your yard. Replanting can be a condition from local government and it helps reduce our carbon footprint.
Due to council by-laws tree removal may require council approval which we can advise and assist, with this process!
Palm trees play a big part in our landscape on the Gold Coast creating that tropical feel, shade and habitat. Like all trees, palm tree pruning and removal is sometimes required.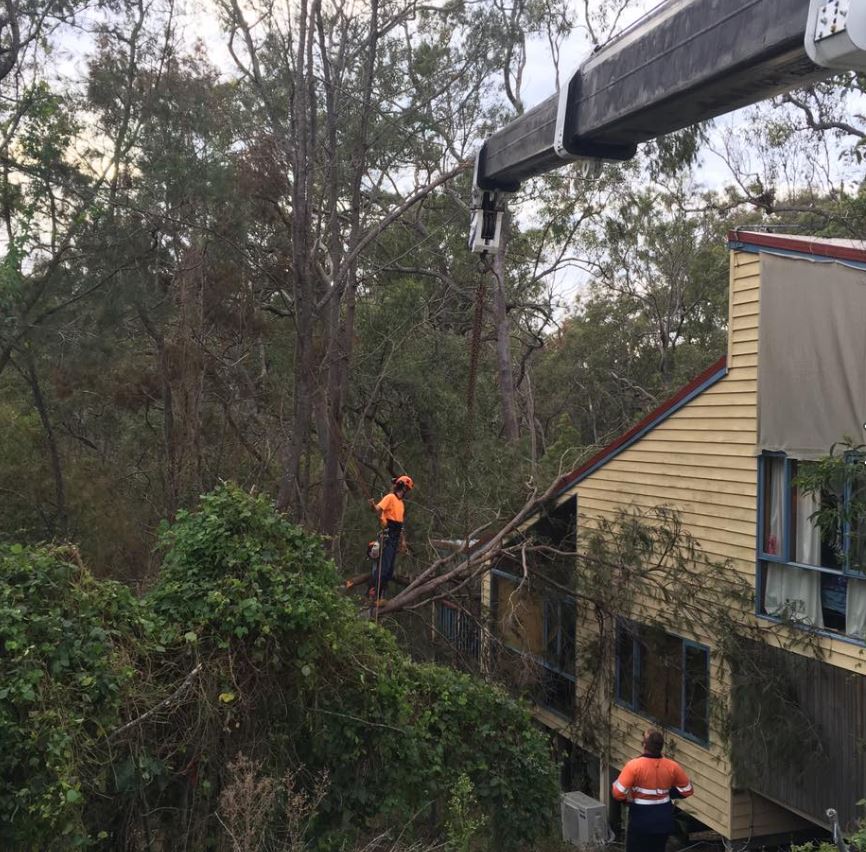 When Is Gold Coast Tree Removal Needed?
We try to preserve trees if it is possible, but sometimes there's no other option but to remove a tree. There can be a range of reasons for tree removal including:
Dead and dying trees are a haven for termites and pests
Trees in the wrong location can block views or cause problems in the future
Tree damage from storms or root damage to pipes
New developments or home extensions may require tree removal to clear the land
Falling leaves and branches blocking gutters or damaging roofs
How Much Does Tree Removal Cost?
Tree removal access. If the tree to be removed is easily accessible by our team then standard equipment can be brought in and also tree waste removed quickly. If the tree is behind buildings or overhanging a house, the removal is more complex and labour intensive requiring more time to complete the job.
How tall is the tree? The height and width of the tree is a significant factor, taller trees take more time to be removed.
Do you need stump grinding? Our team will remove all tree waste to leave the area clean and tidy. With the tree stump gone it's like the tree was never there. Stump grinding services can be included in the quote.
Do you need log splitting? If your home has a fire place, then log splitting will leave you with a healthy stack of firewood.
Do you need council approval? Permits may be required for your Gold Coast tree removal and a fee paid to the council. JC Tree Services can provide advice and obtain tree removal permits for you.
Be wary of low prices. As with most services, a company can attract your business with extremely low quotes. Professional tree service companies have licenses and qualifications to maintain, investment in top quality equipment to do the job safely and effectively, and have the required liability insurances. If you get an extremely low quote they could be skimping on one or more of these, risking your home or business.
Our qualifications, experience, training and OH&S procedures help us to undertake the job safely and accident free. Our local arborists are fully insured members of the Queensland Arboricultural Association (QAA). For piece of mind contact us today for a free tree removal quote!
What Our Customers Say…
If you need any tree pruning or tree removals done, Jez & his crew are the team to go to. No task too big or too small, very affordable & they do a fantastic job. These guys are the best and are highly sought after. Both my wife & I highly recommend JC Tree Services.
– Kevin Champney


(Google review)
---
I had JC Tree Services come to my property to clean up lots of trees and remove a large bloodwood. These guys know what they are doing, very professional…
– Tony Reynierse


(Google review)
Tree Removal FAQs
According to the Queensland government, the 'trees' on your property may also include shrubs - and even stumps! And you're responsible for the entire thing, from the deepest root to the tip of the leaves. If you want to do any significant work on your trees - especially cutting trees on your property, a permit may be required - as local councils and state government are determined to protect trees that they regard as valuable for the entire community.
If you simply ignore these protections, you can be subject to significant fines and even prosecution. Your particular tree could even fall under the category of protected vegetation, which could mean even pruning it will require permission.
Also, don't forget that removing and even pruning trees can be dangerous - and not only to the tree itself and your property but neighbouring properties as well. If you're not sure what to do next, get in touch with your local council or JC Tree Services.
You won't find a standard rate for tree removal across Queensland, because every arborist or tree specialist is different, has varied levels of expertise and equipment - and each tree is a completely separate entity as well. Normally, the cost is most affected by the size, tree type and how difficult or hazardous the removal will be.
As a rough guide, expect to spend anything from a high three-digit amount to somewhere in the mid-four digit range for a particularly large tree in a difficult location requiring specialty safety gear. Some factors affecting tree removal cost include:
Trunk diameter
Significance of branch spread
Access
Nearby obstacles.
If you're looking to keep the costs to a minimum, clear the access to the tree as that is a significant factor that will cost your tree specialist a lot of time and difficulty.
If you're determined to remove your own private trees from your own garden, you won't be getting anywhere without the most basic of equipment - including high-quality, appropriate chainsaws, hand saws and safety protection. You'll also need to consider that once that tree is safely down, the stump will remain - as will a huge amount of branches and tree debris that you'll need to get rid of appropriately.
As well as the practical side of tree removal, there is also the matter of permission - as most Queensland jurisdictions will potentially fine you up to a whopping $10,000 for removing a tree without a permit.
In fact, the regulations and laws relating to tree removal in Queensland are some of the most stringent in Australia - and the world. Remember, each individual council will have its own rules and permit requirements, and then there are various federal laws to consider - like the Environment Protection and Biodiversity Conservation Act. Queensland also has legislation to protect trees and also plants called the Nature Conservation act, which will factor in things like potential Koala dwellings.
To make sure you stay on the right side of the rules, get in touch with your local council or an experienced tree specialist or Arborist such as JC Tree Services.
There is a solution for every tree.