Let's talk about Stump Grinding! Along with the best Gold Coast tree removal and other services, we also remove tree stumps. We have a range of machines available to us to remove all stumps in any position. Stumps left in the ground not only can attract unwanted guests such as termites but can create a trip hazard or regrow causing you more problems. So if the stump is ground below the surface new lawn or a replacement tree can be added to this area.
Our machines can also prune those surface roots that are causing the lawnmower problems or you trip over every time you go to the clothesline.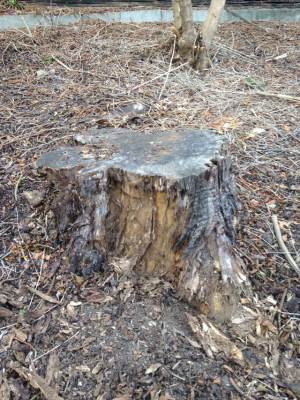 Why should you remove tree stumps?
Do you have an unsightly tree stump in your yard? Here are 5 reasons why you should remove tree stumps around your home.
They attract termites posing a risk to your home
Let's face it, stumps are an eyesore in your yard
They get in the way of development or just making use of the space
They hurt if you trip over them (potential liability issue)
Stump grinding stops trees from growing back
Is leaving them in your yard worth the risk? Get in touch to learn just how affordable our Gold Coast stump grinding services really are, you'll be pleasantly surprised. To reclaim your yard, contact JC Tree Services for a quote!
Fast & friendly stump removal service
Digging stumps out can be difficult and time-consuming, to say the least, especially if you aren't experienced. Then on top of the hard work of digging the stump out there is the disposal of the stump.
Many Gold Coast residents recommend our stump grinding services as we have the latest equipment and friendly, experienced staff. Our stump grinders use high-speed cutting disks with tungsten carbon teeth to grind the stump and roots into small wood chips.
We grind the stump and root surface down and leave the area covered over ready for you to reclaim the area to do as you wish. Stump grinding is the quickest, safest and most cost-effective option to removing those unwanted tree stumps in your yard. Our OH&S procedures help us to undertake the job safely and accident-free.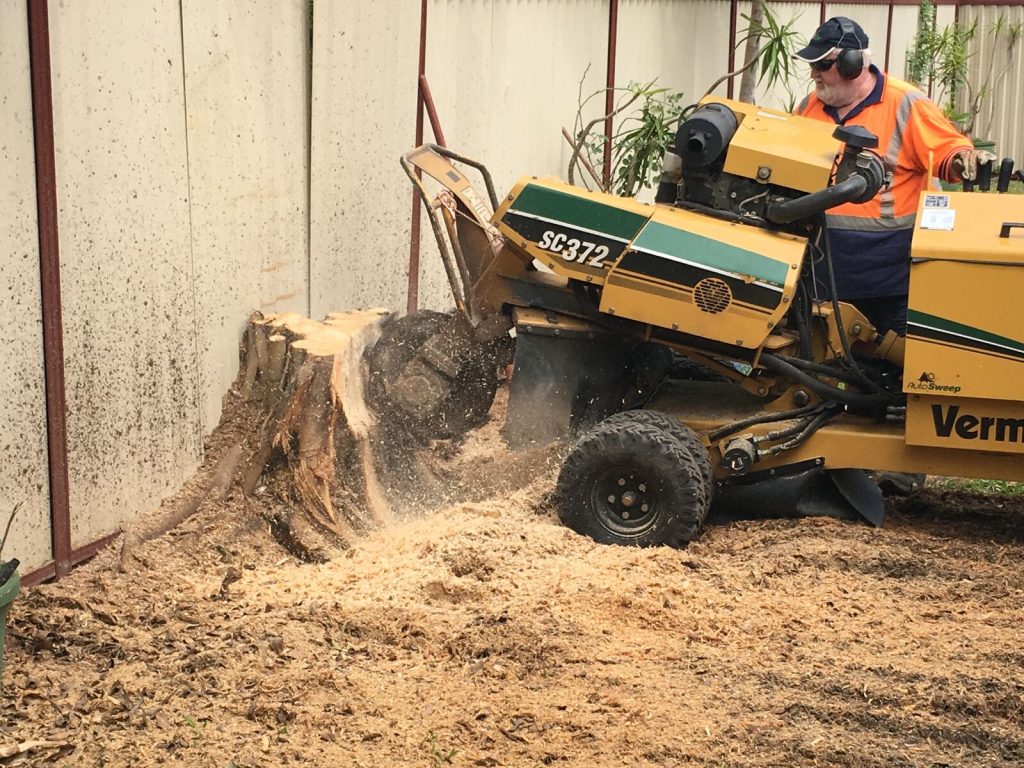 Stump grinding machines
A stump grinding machine is a powerful piece of equipment arborists use to remove tree stumps completely like they were never there in the first place. The machine uses a sharp steel cutting disk that spins at high speed while the operator systematically grinds away at the tree stump.
Sure you can hire a stump grinder, but did you know this is actually more expensive, time-consuming and even dangerous to do? Hiring a stump grinder can cost $100's a day. The equipment is often underpowered, worn and a safety hazard for those not used to operating them.
Stump grinders come in different styles and sizes, so they also take vastly different times to get the job done. You also need a trailer and time to pick up and drop off the stump grinder. You also need to know the location of any nearby pipes or cables lurking underground. DIY stump grinding costs can be much more expensive when you add all this up.
We've invested in only the best, high-quality equipment so no time is wasted grinding stumps into wood chips. Our professional stump grinding services also remove the chips from your property leaving it looking amazing afterwards. You'd have to be crazy to attempt DIY stump removal!
JC Tree Services offers obligation free quotations to let you know how much you will need to invest for Gold Coast stump removal services.  Give us a call today to enquire about removing the unsightly stump in your yard!
What Our Customers Say..
Arrived on time, all workers were polite and did a great job. Highly recommend these guys.
– Wendy Edwards


(Google review)
---
Very friendly and reliable, have used twice and have done a great job. Would definitely recommend!
– Samantha Veivers


(Google review)