Call JC Tree Services for the palm tree removal Gold Coast residents trust.
It's hard to not love the tropical charm and aesthetic beauty of a healthy palm tree – especially in amazing Queensland. But depending on what shape it's in or where it's located, palm tree removal sometimes just can't be avoided.
You may need to consider palm tree removal if…
The tree is dead, damaged, infested or dying
Palm nuts are creating a mess and causing headaches
Roots are damaging or threatening your properties, structures, fences, pools, paving, power lines or paths
It's spoiling the aesthetic look of your property
It's blocking a development or renovation or just in the wrong place
It's creating a risk for storm season or has been damaged.
There are many more reasons why your palm tree may need to go – but no matter why, JC Tree Services can do your palm tree removal safely, quickly, professionally and affordably.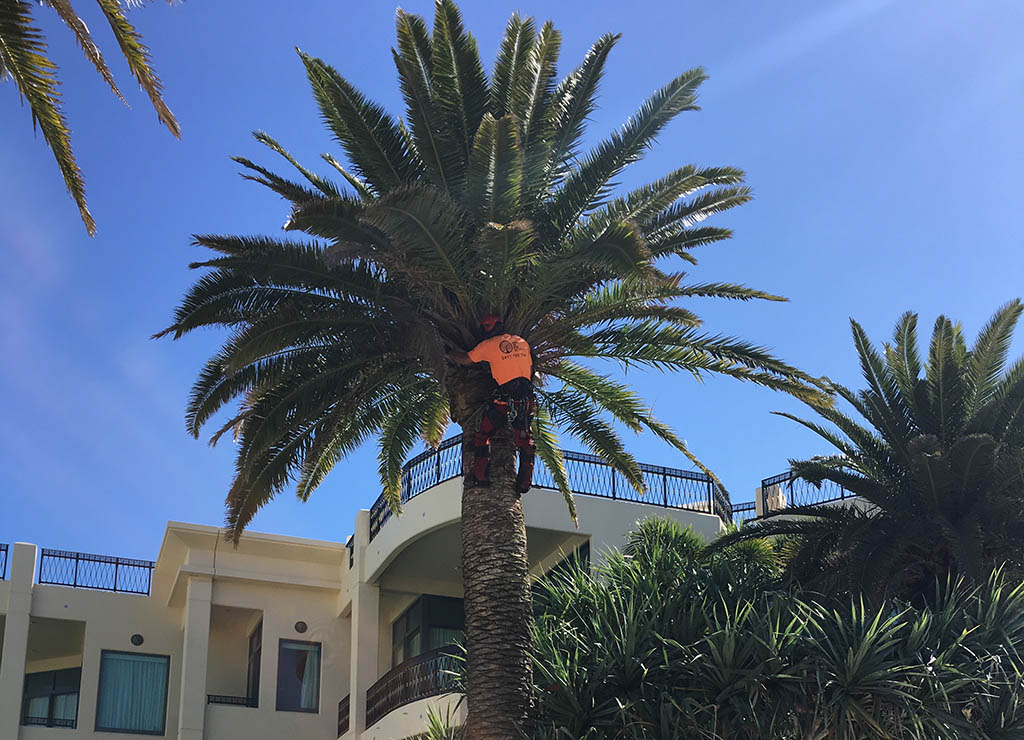 Have you considered palm tree pruning?
If your beautiful palm tree can be saved, an expert session of palm tree pruning done by JC Tree Services will make it stronger and healthier whilst dramatically improve the tropical look of your garden.
Palm tree pruning should be done regularly, carefully and properly – and not just because your tree will look better and last longer. Left unmaintained, a palm tree will drop debris, potentially damaging your property and endangering the people and pets it shares the world with.
Our experienced and qualified team of Gold Coast Arborists are leaders in the field of looking after the palm trees you care or worry about in the Gold Coast region and beyond. When we get to your place, we'll do a free tree assessment and give expert advice based on almost 30 years in the business about the most practical and safe way to move forward.
We don't just know all about palm tree removal and pruning – we really care about you and your property as well. JC Tree Services also do large tree removal, stump grinding, arborist tree reports, tree root barriers and provide a 24 hour emergency callout service – and more.
Want to know more about the palm tree pruning and removal services provided by JC Tree Services in and around the Gold Coast, Northern NSW, South Brisbane and the scenic rim? Get in touch right now!
Looking for other Gold Coast tree services? We got you covered as well!