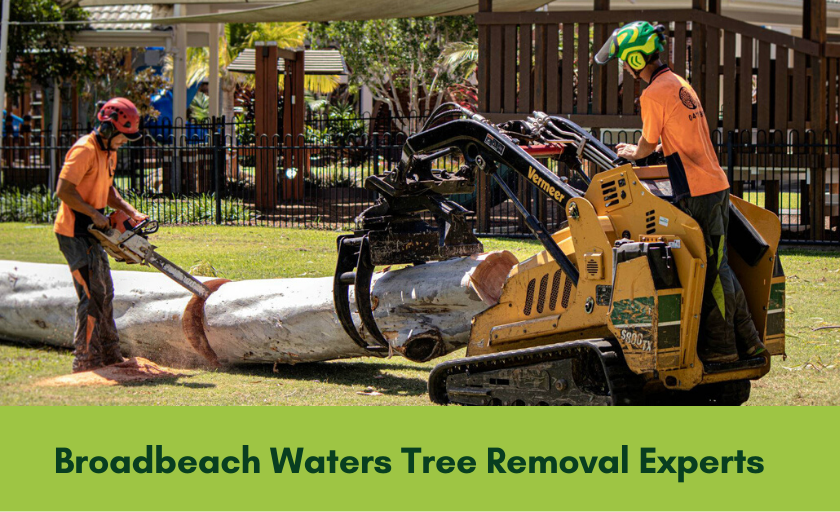 When you think of the beautiful Gold Coast, what comes to mind? Surfers? Sea World? Sunshine? Here at JC Trees Services, you won't be surprised to hear that we always think about the thousands of spectacular trees that make our local work in tree services of all sorts so very special.
The tree removal Broadbeach Waters locals need
Beautiful trees and breathtaking nature is just one reason why Broadbeach Waters is one of Queensland's most popular suburbs. The locals really care about their trees, but sometimes that means saying goodbye to one. They get damaged in storms, they succumb to disease or infestations, they encroach, impede and they die.
You may need to think about tree removal services in Broadbeach Waters for a number of reasons:
They pose a hazard
They are dead or dying
They are incorrectly located
They are too close to buildings, utility lines, pools etc.
In truth, there are hundreds of reasons why you may require premium tree services Broadbeach Waters wide. Jez, an internationally experienced arborist, heads a similarly-skilled group of tree experts who possess the knowledge, techniques and specialist equipment to remove trees:
Safely
Legally
Efficiently
Without damaging property
Without leaving a mess behind.
Why choose JC for your tree care needs?
Safety: We've all experienced a wild Gold Coast storm, and many of us have seen the damage they can do to trees! If tree removal is necessary, JC Tree Services can do it swiftly, safely, with the latest correct gear and trained and qualified staff.
Emergencies: Is a tree posing an immediate hazard at your home or premises? If so, the calm, highly experienced and always-alert JC Trees guys are ready to take your call.
Experience: Be aware that not all Broadbeach Waters arborists are the same! But you can really rely on us to know exactly what to do to address your tree issue in the proper way without causing damage or a mess.
Equipment: Don't let someone tell you they're a tree expert unless they also have all the latest, specialist equipment late chippers, platforms, skid steers and cranes – and more – to get the job done right the first time.
Here at JC Tree Services, we say "yes" to a single tree removal, the clearing of an entire block of land, and a huge range of other needs like pruning, arborists reports – and so much more.
We can also guide you through the complex process of council approval if necessary, and even replace your removed tree so that it is properly selected, situated, planted and cared for.
The full spectrum of tree services Broadbeach Waters needs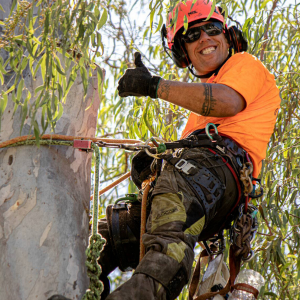 As you know, JC Tree Services is a great choice to handle the safe and professional tree removal Broadbeach Waters locals have been relying on for many years. We can also take care of your:
Palm tree removal: Although a familiar and reassuring sight all over Broadbeach Waters and beyond, palm trees also require care and potential palm tree removal services too.
Tree lopping: The Gold Coast City Council does not allow tree lopping, and we agree that it is bad for trees. Instead, JC Tree Services' tree pruning services will perfectly maintain your trees, keeping them manageable, healthy, attractive and safe.
Stump removal: Without expertly grinding and removing that tree stump, you risk termites, regrowth and a safety hazard. Only skilled and licensed pros like the JC team have the special equipment and expertise to get it done right.
We can also promptly assist in nearby suburbs such as Broadbeach, Mermaid Waters, Mermaid Beach, Surfers Paradise, Miami. In fact, our services are available right across the Gold Coast!
All about tree services Broadbeach Waters
While nearby Broadbeach buzzes, adjacent Broadbeach Waters adopts a more sedate approach with its intricate kilometres of canals, bike paths and scenic walks. While it would be tempting to eschew this fringe-dwelling suburb in favour of bustling Broadbeach which bags the spotlight, don't. For there are plenty of interesting restaurants dotted around the place and the canal system itself is one worth witnessing. It sits nestled behind unassuming Cascade Gardens with its rainforest walk, water bird sanctuary, waterfalls and tranquil creek.
Grab a kayak or stand-up paddle board and enjoy this colourful part of the coast from the calm waters away from the beaches. Check out the beautiful homes perched along the canals, spot a bird or two and stop for a picnic in a peaceful park. And really, who can resist a place called Lake Intrepid or a road called Sunshine Boulevard? If that's not quintessential Queensland, we don't know what is.
Source: https://www.destinationgoldcoast.com/places-to-see/broadbeach-waters