There aren't many places on earth more naturally beautiful than Northern NSW. And here at JC Tree Services, we know just how much Northern NSW and Hastings Point locals care about and admire nature – and especially the thousands of trees that make our homes, streets and parks so special. It's why we offer the sort of Hastings Point tree services that honour the beauty and importance of trees, and yet make those services accessible to all.
The tree removal Hastings Point residents need
Because you care about the trees on the grounds of your property or premises as much as you care about your family and the local community, it's sometimes necessary to consider calling a local tree removal experts.
Why? Because trees become damaged or unhealthy, and can even be dangerous. Trees can also encroach on unwanted spaces, disrupt your plans and projects, or sometimes just become a nuisance or an eyesore.
Trees can need removing when:
They become dangerous
They are sick, dying or dead
They are incorrectly located
They are the wrong species
They are in the way of new development.
The tree removal Hastings Point residents have come to trust is done by JC Tree Services. Headed by Jez, a fully qualified arborist with decades of international experience, JC Tree Services has all the right skills, knowledge and specialised equipment to properly and legally remove trees.
JC Tree Services ensures all tree removal is done:
Legally
Safely
Without damaging property or leaving a mess behind
With council approval.
Why else should you choose JC for your Hastings Point tree removal?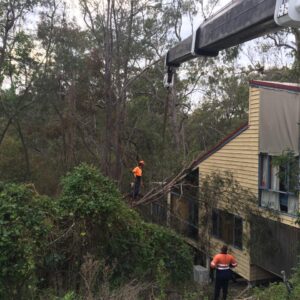 Safety: After a storm or due to structural weaknesses, prompt tree removal done by qualified professionals can be the only safe option.
Skills: Not all Hastings Point arborists are created equal! Jez and his team have years of experience doing tree removals of every size and type without damaging property.
Equipment: When it comes to tree removal done right, JC Tree Services uses only state of artwork platforms, wood chippers, skid steers and cranes to complete the job safely and efficiently.
Versatility: Whether it's a fig, a poinciana, a palm or an entire block for clearing, Jez says "yes" to jobs big, small, easy or difficult.
All the tree services Hastings Point expects
JC Tree Services has been loyally serving the Northern NSW region with friendly, professional tree services for many years. And Jez and his team can also help you with:
Tree pruning: Tree lopping is not allowed by the local city council, but you can be sure JC Tree Services' professional pruning services will help keep your trees in tip-top shape.
Stump removal: After tree removal, effective stump grinding reduces the risk of termites, tripping or regrowth.
Arborist reports: Only a fully qualified arborist like Jez is qualified to do comprehensive tree and arborist reporting for development, management, insurance and disputes.
We can also promptly assist in nearby suburbs such. In fact, our services are available right across the Northern NSW region!